Elderly Care on the Move
Program
09.15 – 09.30: Welcome

09.30 – 10.30: Keynote
Professor, Jihua Lu, Department of Sociology and deputy director of  Center for Healthy Aging and Development Studies Peking University. 
Dr. Lu now serves as the vice president of China's Population Association and of China's Association of Gerontology and Geriatrics. His research areas include demography, gerontology, economics of population, and interaction between population and environment. Dr. Lu has been the principal investigator for more than ten key projects and published more than 70 academic papers, including "Chinese Women's Family Status: Analysis of Chinese Decennial Survey,  1990-2010", "Associations of chronic conditions, APOE4 allele, stress factors, and health behaviors with self-rated health", " Patterns of living arrangements of the elderly in Mainland China: changes, consequences and policy implications".  

Elderly care in China: Changing norms across generations
Who will take the main responsibility for the old-age life and care in China today? With the development of China's economy and society and the acceleration of the aging process, people's understanding of the concept of eldercare responsibility tends to become quite different, diversified and individualized. Based on the data of China General Social Survey (CGSS) in 2015, this study focuse os changes and differences of the norms of eldercare responsibility among different generational cohorts in the context of social transformation, and explores the social factors that may provide explanations. Findings show that comprehensive understanding of family relations and pension culture in Chinese society is conducive to dealing with the significance of traditional culture for pension care;  as  to  provide more targeted and effective pension services and security, in order to cope with the continuing challenges of population aging in the future.
10.45 – 11.45: Comments and perspectives by

Peter Abrahamson, Department of Sociology, University of Copenhagen
Welfare Systems and Elderly Care

Eva Hyldgaard, former general manager of Shanghai Yiheyuan Elderly Service Center
Danish Model of Elderly Care in China. Potentials and Challenges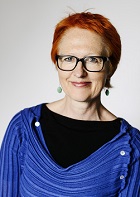 Hilda Rømer Christensen, Department of Sociology, University of Copenhagen
Smart But Not Digital, the Roller as Age Based and Social Innovation in Denmark and China

11.45 - 12.00: Closing remarks.
Venue: CSS, Øster Farimagsgade 5, Room: 18.1.08
Register for the seminar
Practical Information
Time and date
October 4th, 2019
From 9.00 - 12.00
Address of the seminar venue
CSS, Faculty of Social Science
Øster Farimagsgade 5
1353 København
Building 18, Room 18.1.08
Registering required