16. maj 2018
Women, Gender, and Research published in China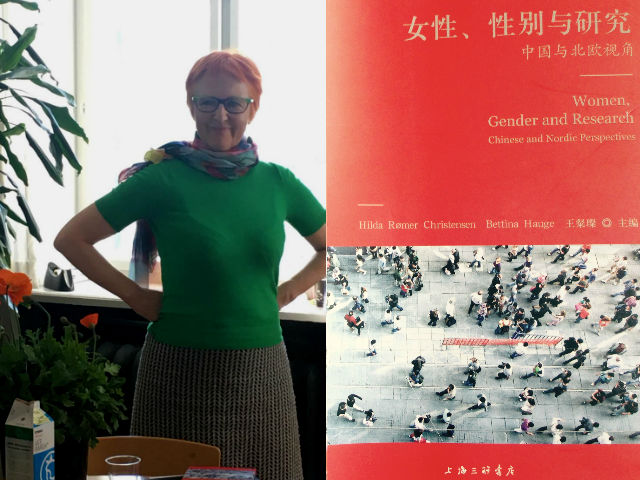 Hilda Rømer Christensen, Bettina Hauge and Cancan Wang has co-edited a nes publication: Women, Gender, and Research. Chinese and Nordic Perspectives. The book has been published by Shanghai Joint Publishing Company in Chinese. The Coordinationen for Gender Research hosted a mini reception to celebrate the book release the 8th of maj.
ONLINE ACCESS
English edition: https://tidsskrift.dk/KKF/issue/view/3879/showToc
Chinese edition: : 女性、性别与研究:中国与北欧视角, 上海三联书店 2018.
https://www.amazon.cn/mn/detailApp/?tag=bookdao-23&asin=B079N1QS5N
INTRODUCTION:
INTERVIEW
ESSAY
ARTICLES
Hot Mums. Motherhood and Feminism in Post-socialist China
Yifei Shen

Practices of Childcare in Urban China - The Making of Competent Mothering in Beijing
Michala Hvidt Breengaard

REVIEWS:

Review of Leta Hong Fincher: Leftover Women. The Resurgence of Gender Inequality in China. Zed Books, London, New York. 2014. Reviewed by Cancan Wang.

Engebretsen, Elisabeth L. 2014. Queer Women in Urban China: An Ethnography. New York and London: Routledge. Reviewed by Hongwei Bau.

Jung Chang: Empress Dowager Cixi. The Concubine Who Launched Modern China.

Alfred A. Knops. New York, 2013. 436 pp reviewed by Hilda Rømer Christensen

Nancy Fraser: Fortunes of Feminism: From State-managed Capitalism to Neoliberal Crisis ( reviewed by Birte Siim )