3. februar 2017
Bodies & Brains on the 8th of March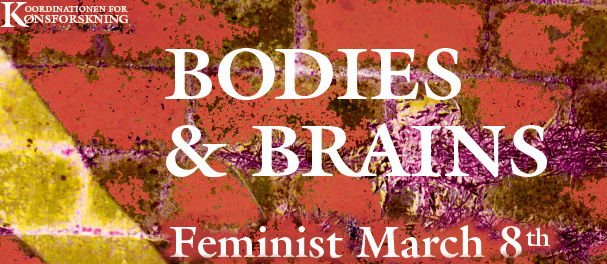 On the occasion of International Women's Day 8. March The Coordination for Gender Research invites you to a morning event about feminist perspectives on bodies and brains. 

Gender studies and the knowledge production within biology has historically had a complicated and often conflictive relationship. For gender studies, this relationship has produced an increasing need to deal with and get involved in biological knowledge production in different ways. 

At this event three speakers will give their views on different critical and constructive approaches to bodies, affects and brains. Talks and discussions will centre around gender differences in the brain, gut-brain-microbiome research, and affect theory. 

All talks will be in English.
The event is free but please register your participation at redsek@soc.ku.dk by February 28th
Check out the event on facebook as well 

^^^^^^^^^^^^^^^^^^^^^^^^^^^^^^^^^^^^^^^^^^^^^^^^^^^^^^^

PROGRAMME:
9.30-9.45: Welcome, coffee and croissants


9.45-10.30: Presentations on bodies, affects, brains and gender studies, by Julia Robotham, Adam Bencard and Maria Mortensen.


10.30-11.00:

Diskussion

^^^^^^^^^^^^^^^^^^^^^^^^^^^^^^^^^^^^^^^^^^^^^^^^^^^^^^^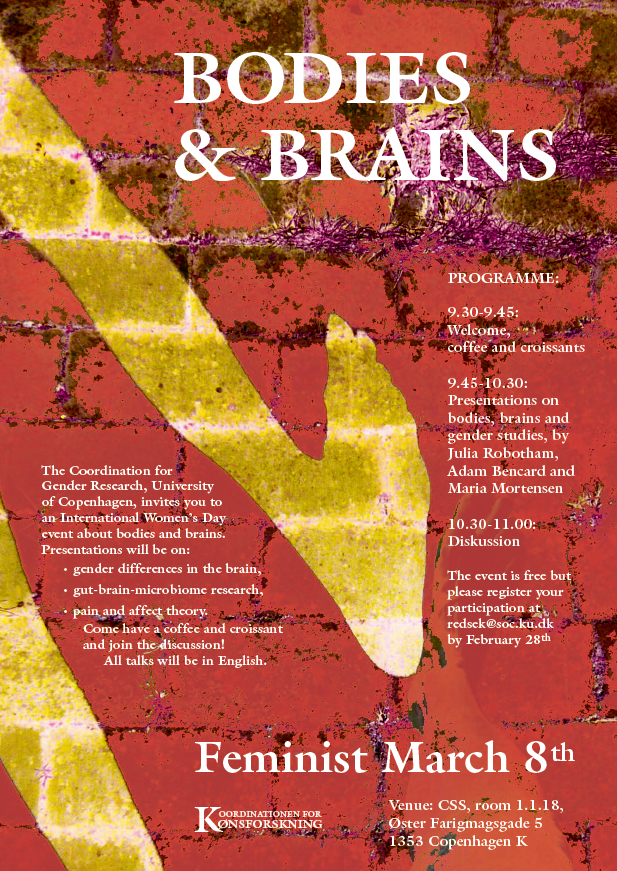 Kontakt
Time: 9.30 - 11.00
Place: CSS Øster Farimagsgade 5, room 1.1.18