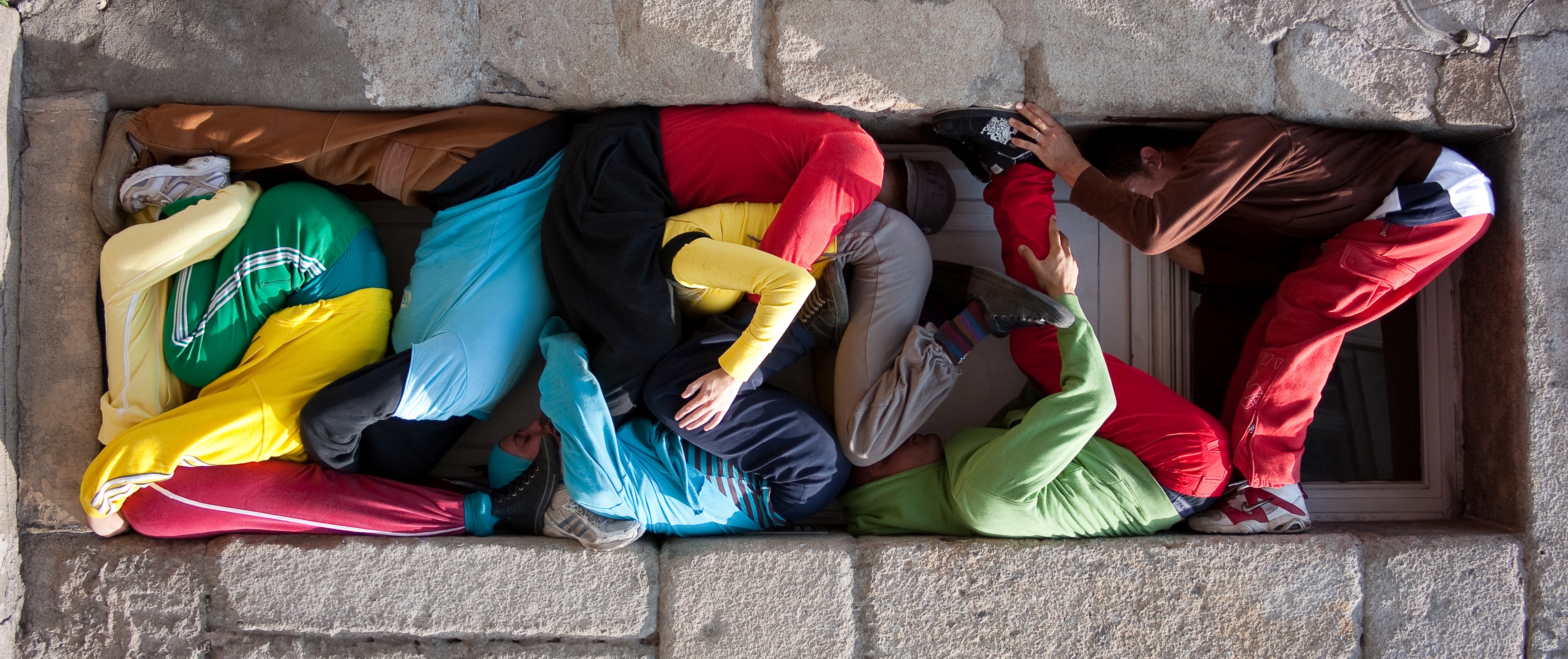 © Florent Lanquetin, Bodies in urban spaces, 2009 
Gender and Body Dynamics in the 21st Century
The diploma lecture series Gender and Body Dynamics in the 21st Century provides an opportunity for students to learn about recent developments in different theories on gender and body. The lectures contains different interdisciplinary approaches such as politics, law and media as well as sexuality, identities and animal studies.
Recent decades have witnessed an explosive development in the interface of gender and body dynamics. The variety of turns in modern technologies and feminist theory have blurred traditional boundaries between public and private and between human and non-human: Who owns the body and who disposes over the different parts? Who is responsible for choices and regulations of lifestyles, sexualities and reproductive technologies? What are the implications of the current ideas of gender, that have become more fluent and multiple? How do the new understandings relocate old and new power structures and hierarchies?
During the autumn's lecture series these questions and many others will be discussed by a variety of researchers from different disciplines. It is therefore an exclusive opportunity to get inspired and more familiar with the research area. 
You also have the possibility to receive a diploma if you attend five or more lectures. 
IF YOU PARTICIPATED IN AT LEAST 5 LECTURES AND WANT TO RECEIVE A CERTIFICATE, PLEASE E-MAIL YOUR NAME AND ADRESS TO aw@soc.ku.dk
Program autumn 2011
Time and place
Wednesdays 15.00-17.00
Venue: CSS 7.0.34 (9/11, 23/11 and 7/12), CSS 18.01.11 (28/9 and 26/10), CSS 2.0.30 (12/10) and CSS 1.1.18 (1/11)
Free entrance
All lectures in English
Possibility to receive a diploma
28 September
The challenges posed by sexuality and disability (CSS 18.01.11)
Professor Don Kulick, Faculty of Anthropology, University of Chicago
DOWNLOAD POWER POINT SLIDES HERE.
I will talk about my current research on how the sexuality of people with severe mental and physical disabilities is thought about and dealt with practically in Sweden and Denmark. I have recently completed 6 months of fieldwork, that includes more than 60 interviews with a wide variety of people (women and men with disabilities, people who work with them as carers, parents, activists, 'seksualvejledere' in Denmark, sexologists and sex workers). Fieldwork also included living for several weeks in two Danish "bofællesskab"; one for people with intellectual disabilities, and one for people with severe cerebral palsy ("spastiker", in Danish). Even though Sweden and Denmark are very similar when it comes to laws and welfare in relation to people with disabilities, the two countries differ dramatically in how they discuss and treat the sexual lives of people with disabilities. The difference, put as starkly as possible, is this: in Sweden, the sexuality of people with disabilities is ignored, repressed and prevented; in Denmark, people with severe disabilities are helped, in various ways, to have the capability of a sex life. I will talk about why these differences exist and what they mean both in terms of the lives of people with disabilities, and also in terms of what they mean for understandings and theories of rights and ethics.
12 October
Confusing Identity: Feelings, Biology, and Gender (CSS 2.0.30)
Post doc René Rosfort, Faculty of Theology, University of Copenhagen
To what extent are we able to shape, control, and educate our feelings? Can feelings and emotions be gendered? Is gender rooted in involuntary biological functions or is it a matter of social construction, perhaps even personal choice? Do we choose who we are? Questions such as these lie at the theoretical core of Gender Studies, but are often adumbrated by the more immediate social and political concerns of the discipline. In this lecture, I shall discuss these four questions from the perspective of philosophy of emotions, drawing freely on resources from literature, neuroscience, and the contemporary debate in Gender Studies. Obviously, each of these questions is far too complex for any attempt to provide satisfactory answers. I shall argue, though, that the difficulty of such theoretical questions should make them central issues in our endeavour to further the agenda of Gender Studies.
26 October
(In)Fertile Bodies on the Move: Travelling for Egg Donation (CSS 18.01.11)
Ph.D. Charlotte Kroløkke, Institute of Literature, Media and Cultural Studies, University of Southern Denmark
Fertility travel is an emergent topic within sociological and anthropological scholarship. It involves not only infertile couples crossing nation states but also an intricate interplay between a growing and emergent fertility industry and the reproductive assistants employed therein such as egg donors and egg recipients. This presentation discusses how Danish women talk about and negotiate travelling to Spain or the Czech Republic for egg donation. Analyses of the legal context for egg donation in Denmark reveal how altruism mixes with notions of gender equality. Moreover, the presentation discusses how Danish infertile bodies travelling to Spain or the Czech Republic employ conventional understandings of femininity and nationality both.
1 November (Note: weekday TUESDAY)
Feminist body politics - between posthuman and postnatural (CSS 1.1.18)
Professor Nina Lykke, Gender and Culture, Linköping University 
The lecture will argue that studies of animal/human relationships and feminist studies should be integrated much more than it is the case today. A key concept of contemporary feminist studies is intersectionality. Intersectionality is often understood in terms of intersections of gender, ethinicity, sexuality and other categorizations relating to the human sphere. But what happens when we integrate animal/human relationships and posthuman as well as postnatural perspectives?
9 November
Love in Limpopo: Becoming a man in a South African university campus (CSS 7.0.34)
Post doc Bjarke Oxlund, Department of Anthropology, University of Copenhagen
Relationships of love, sex and material exchange take center stage in the social becoming of Limpopo youths. This lecture investigates the nexus of love and gendered personhood in a post-apartheid environment characterized by rural poverty and the social impact of South African HIV/AIDS pandemic. Examining the paradoxical simultaneity of HIV/AIDS silences and an explosion of sex discourse, the presentation draws on Foucault's notion of the technologies of the self to illuminate how silences and sexual talkability are configured and lived in the realm of a rural university campus in the South African periphery.
23 November
War Rape and Political Evil (CSS 7.0.34)
Ph.D. Robin May Schott, Danish Institute for International Studies
The problem of evil is central for the history of philosophy, and every time a major disaster occurs - such as the tragic terrorist attack in Norway on July 22, 2011 - the concept of evil becomes a renewed topic of public debate. In this lecture I will discuss some recent debates about the problem of evil in the field of post-Holocaust studies, as well as the contributions of some feminist philosophers to these debates. Several feminist philosophers argue that philosophical perspectives can make an important contribution to understanding the harms of sexual violence, and that understanding these harms brings to the fore important dimensions in the problem of evil. I discuss these issues in the context of war rape and develop Hannah Arendt's concept of natality as contributing to a concept of political evil.
7 December
The true sex? Trouble with hermaphrodites (CSS 7.0.34)
Professor, Bente Rosenbeck, Centre for Gender Studies, University of Copenhagen
DOWNLOAD POWER POINT SLIDES HERE.
During the second half of the nineteenth century scientific notions of gender expressed faith in the universality of human nature. Sex difference was considered natural and biological, and that is the reason why hermaphrodisme posed great problems for the medical science. The hermaphroditic or intersexed body refused sexual categorization. Danish doctors were confronted with several intersex/hermaphrodite cases in the 1890s among them Vilhelmine Møller, a matron of an orphanage, who in 1893 were accused of murder, and Miss. MN, a 49-year-old woman. Through these cases we get a unique access into assumptions about the nature of masculinity and femininity and into how our culture makes a human being "recognizable" male or female.
For more information, contact Anna Wilroth, aw@soc.ku.dk
How do I receive a diploma?
It is possible to be awarded a diploma certifying participation in the lecture series Gender and Body Dynamics in the 21st Century. To qualify for the diploma it is required:
• To participate in at least 5 lectures.
Please note that attendance will be recorded at the end of each lecture. It is therefore not possible to achieve status as a participant, if one is not present throughout the whole lecture.
Questions can be directed to Anna Wilroth, aw@soc.ku.dk.